OH NO!
Members Only
Please make an account using the email you purchased Last Crumb with to shop the variety 6-pack.
Create an account
Log in
CHOCOLATE CHIP
Three variations of chocolate: dark chocolate, rich chocolate and milk chocolate. A mix of both chips and chunks for textural variation. Caramelized butter based dough with the slightest hint of coffee to leave your taste buds guessing. Maldon sea salt, just a pinch, to make you salivate and balance the sweetness.
LUXE PACKAGING
LAST CRUMB EXPERIENCE
We've constructed a luxe black box that will deliver your cookies in damn near perfect condition while keeping them looking pretty, too. Once the box reaches your doorstep, you'll get to indulge in the world of handcrafted cookies freshly baked at the Last Crumb HQ. What you do with the box after is up to you... it wouldn't be the first time that someone stored love letters in it.
THE COOKIE FINISH
The bakers at the Last Crumb HQ have a niche for never leaving a cookie left unfinished. Each sweet morsel of crumbs have been finished with handmade toppings including ripe fruit streusels, crumb coats accompanied by fluffy cake crumbs, and fresh lime and lemon zest... that's to name a few. Finishing is the best part, don't settle for just any lazy baker.
THE COOKIE BREAK
Our Head Baker was on a mission to break the boundaries by turning the world's most half-assed dessert into a cookie worthy of a Michelin Star. These cookies are prepared with hand-selected premium ingredients imported from across the entire damn planet and filled with enough flavor to make your tastebuds breakdance on your tongue.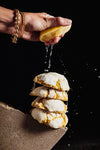 FAQ
COMMON QUESTIONS
WHEN DO THEY SHIP?
Our team is baking around the clock to get you your cookies. All orders will ship out to head your way within 1-4 business days from when the order is placed!
WHAT'S THE SHELF LIFE OF THESE COOKIES?
Two weeks – they're not packed to the brim with preservatives. With that said, due to our wildly advanced packaging technology, they remain at peak freshness for up to two weeks before starting to stale. If you think it'll take longer than 2 weeks to consume, we recommend sticking them in the freezer as soon as you receive them. Freezing can keep them fresh for up to a month!
MY COOKIES ARRIVED SOFT/MELTED. WHAT DO I DO?
We don't mess around. Your cookies are baked fresh and shipped same day. But hey, let's keep it real - when temperatures soar, things can melt. But don't worry—those cookies will still taste damn good. Just pop 'em in the fridge for a bit, pour yourself an ice-cold glass of milk, and let the flavors take you back to simpler times.If you experience any major issues, snap some photos and send them over to our team at hello@lastcrumb.com and they'll do their best to help!